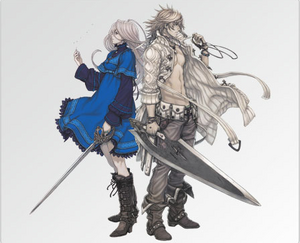 This page is basically just a list of all the weapons from The Last Story.
Top 10 Highest Attack
Edit
Top 5 Highest Magic Attack
Edit
Because that there are not enough Magical Weapons, I am only going to put 5. Also, the prize weapons as well as North/South Wing are counted as magical weapons but they do not have the magical attack. Joke weapons also pass as magical weapons since their mag attack is good as well, but we don't want to put it in this category.
Note: The Arganan Dagger has the highest Physical Attack for a magical weapon in the game.
Melee Weapons
Edit
These bonuses appear originally, or upgraded up to at least 3+.
Magic Weapons
Edit
Prize Weapons
Edit
Joke Weapons
Edit
Blunt Swords
Edit
Bombs are cylindrical weapons used against certain bosses. They come in three types: Daze Bomb, Flare Bomb, and Heal Bomb. The Daze Bomb is green in color, Flare Bomb is orange, and Heal Bomb is white.
All of these are also found in both Co-op and Deathmatch of Multiplayer.
It's the only long-ranged weapon in the game, it uses arrows as ammunition, the only characters that can use it are Zael, Horace and Calista (just in Chapter 27), but several non-playable allies carry them as well. In Multiplayer Deathmatch, every character can use a type of crossbow.
Crossbows:
Edit
Crossbows can be upgraded up to 5+ by using a common item called Sylph's Bowstring.
Arrows can be used in the story and online. However, mages do not have arrow, but they do have something to shoot that corresponds to their element.
Arrows: Default Arrows (can be upgraded to 99+ damage).
Burst Arrows: Fire Element, destroys environmental objects and deals high damage to Wyms and archers.
Charm Arrow (Sidequest): Can make anybody fall in love with the user for a few minutes.
Fireworks: Distracts certain NPCs.
Paralysis Arrows: Paralyzes enemies.
Prank Bananas: Makes enemies and NPCs slip; useful in many situations...
Silver Arrow: Weakens and deals high damage to vampires; can be obtained in Chapter 20 and 36, can also be bought from Zoran later in the game.
Sleep Arrows (only in Chapter 27): Puts guards to sleep.
Wizard Slayer: Deals high damage to mages.
Annihilator Arrows (Online): deals Large Non-Elemental damage.
Elemental Arrows (Online): Only mages can use these. They correspond to their users' type of magic [for example: Calista shoots holy arrows].
Heal Arrow (Online): Heals 2000 health to allies.
Light Arrows (Online): Only Berith can shoot these. These arrows are red in color and explode on impact.
Thunder Arrows (Online): Only Zangurak and Zepha can shoot these. Deals lightning damage.
Ad blocker interference detected!
Wikia is a free-to-use site that makes money from advertising. We have a modified experience for viewers using ad blockers

Wikia is not accessible if you've made further modifications. Remove the custom ad blocker rule(s) and the page will load as expected.