Stargazer's Tower
Edit
Zael
agrees with
Lisa
to take her to
Stargazers' Tower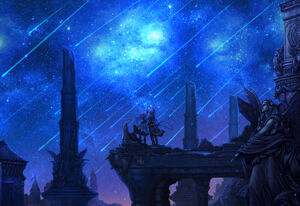 before she returns to her home.
When they arrive Lisa starts talking about her parents and the previous times she went there. When the meteor shower begins Zael remembers the lenses his father gave him on the last meteor shower they saw.
As they watch the stars Lisa shows Zael her "lucky star" The Twin Swans. Later she starts to sing a song that her mother used to sing. They start talking about Zael's dream of becoming a knight and Lisa's dream of traveling around the world. The chapter ends with Lisa going back to her home, and Zael returning to the tavern and talking to Lowell about not watching Lisa again.
You can get the "Invisible" dye for shirts in this chapter (Turns a character's clothes invisible). See the video walkthrough below for more information. Note: This does not cause any sort of nudity, as female characters retain underwear; however it should still be deemed as inappropriate for children.
Ad blocker interference detected!
Wikia is a free-to-use site that makes money from advertising. We have a modified experience for viewers using ad blockers

Wikia is not accessible if you've made further modifications. Remove the custom ad blocker rule(s) and the page will load as expected.