Arganan Temple
Edit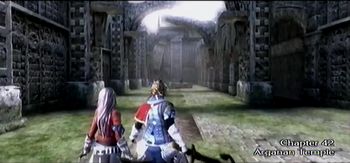 In
Calista
's room,
Zael
looks at a picture of her parents and decides to go to the Arganan tomb to make his wedding vows in front of Calista's parents. They decide to set off for the ancient ruins where her parents lay at rest to exchange their vows. Neglected by
Count Arganan
, the Temple has gone to ruins and is infested with
Reptids
and other monsters.
As they enter, they face an attack from Reptids. When they enter a temple, more enemies emerge, some of them break through the walls. Once they are all defeated, Zael and Calista go outside. There, they must defeat enemy archers, but Calista's magic and Zael's arrows deal no damage, so Zael throws a bomb and kills them. Then the road splits and they take one of two paths to advance. After defeating more enemies, they go down to Calista's parents' grave.
There, they encounter a Gold Spider, with some Reptids later joining the spider. Once they defeat the boss, Zael and Calista climb the last set of stairs to her parents' grave. To their surprise, the rest of the team shows up to throw them a surprise wedding. They take Calista away for a bit to get her in her wedding dress. Lowell marries them right then and there.
The next day, Zael looks out the window. Calista is in his bed after a wonderful wedding night. She comes to the window with him and they seem very happy.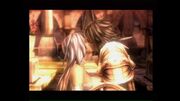 Ad blocker interference detected!
Wikia is a free-to-use site that makes money from advertising. We have a modified experience for viewers using ad blockers

Wikia is not accessible if you've made further modifications. Remove the custom ad blocker rule(s) and the page will load as expected.