The Mercenaries' Warship
Edit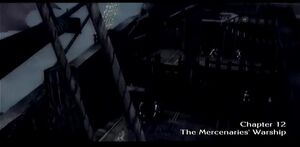 After capturing the ship, Zael and the others are talking about what to do. Dagran proposes to find the Gurak base to impress the Count. The others agree and Calista asks if she can accompany them and be part of the group. Zael agrees and Dagran says its OK, but only if Zael swears to protect her. Zael gladly does.
After the talk Zael and Calista have a little talk in the back part of the ship. When they finish Zael talks to Dagran, who informs him that the ship is damaged and water is leaking into the ship. Zael looks for a nearby island. He finds one, so they decide to stop there to make repairs.
Ad blocker interference detected!
Wikia is a free-to-use site that makes money from advertising. We have a modified experience for viewers using ad blockers

Wikia is not accessible if you've made further modifications. Remove the custom ad blocker rule(s) and the page will load as expected.